BAJA CLAW RADIAL SLT
Features of Mickey Thompson BAJA CLAW RADIAL SLT
Advanced radial construction
Self cleaning high-void tread
Circumferential grooves
Directional 23 degree tread pattern and extra wide footprint
Large Sidebiters® and tough puncture resistant sidewalls
Specialty Light Truck Size (SLT) Features 3-Ply (Power Ply™) Sidewall and 6-Ply Tread.
Benefits of Mickey Thompson BAJA CLAW RADIAL SLT
For high mileage & smooth ride
For traction in mud & snow
For hydroplane resistance
For the extreme traction off-roader's demand
For added strength and puncture resistance
Currently Available Sizes For This Tire
Please click the correct size for pricing and availability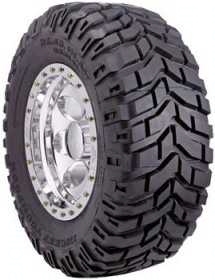 Mickey Thompson Tires At The Best Prices In Texas and Washington.
We guarantee we have the lowest prices on new Mickey Thompson tires in Texas and Washington.
If you find Mickey Thompson tires cheaper in Texas and Washington, let us know and we'll beat it! Simply tell us where you found new tires at a better price including mounting, balancing and tax and we'll take care of the rest.